Urlop w Kaltern na winnym szlaku
W Kaltern nad jeziorem urlopowicze mogą poczuć lekkość południa jak nigdzie indziej w Południowym Tyrolu: jezioro Kaltern zachwyca jako najcieplejsze kąpielisko w Alpach, a łagodne winnice zapraszają do pieszych i rowerowych wędrówek. Koneserzy delektują się doskonałymi winami i specjałami kulinarnymi regionu.
Wioska Kaltern ze starymi rezydencjami w stylu Überetscher jest klejnotem samym w sobie. Malownicze położenie nad brzegiem pięknego jeziora Kaltern, otoczonego winnicami i sadami oraz chronionego przez wznoszący się grzbiet Mendel, nadaje jeszcze więcej uroku temu ośrodkowi wypoczynkowemu na południu Południowego Tyrolu.
Sport w wielu odmianach
Jezioro Kaltern to nie tylko zabawa dla pływaków - jest również idealne do zwiedzania rowerem wodnym, deską wiosłową lub deską surfingową. Woda odgrywa również ważną rolę w postaci małych jezior na przestronnym 9-dołkowym polu The Blue Monster klubu golfowego Eppan. Adventure Park Kal tern to duży i przyjazny rodzinom park linowy , który zachwyca małych i dużych aktywnych wczasowiczów.
Wokół Kaltern piechurzy i rowerzyści znajdą trasy na różnych wysokościach i poziomach trudności. Wspaniałe widoki otwierają się na przykład podczas wędrówki do zamku Leuchtenburg lub przez wąwóz Rastenbachklamm do zamku Altenburg. Rowerzyści szosowi mogą wybierać między łatwymi trasami wzdłuż Południowego Tyrolu i wymagającymi wycieczkami na przełęcze, takie jak Przełęcz Mendla. Oczywiście istnieją również górskie szlaki rowerowe i wycieczki rowerowe dla rodzin, a Mendelbahn, historyczna kolejka linowa, zabiera niezbyt wysportowanych wczasowiczów na panoramiczne wysokości.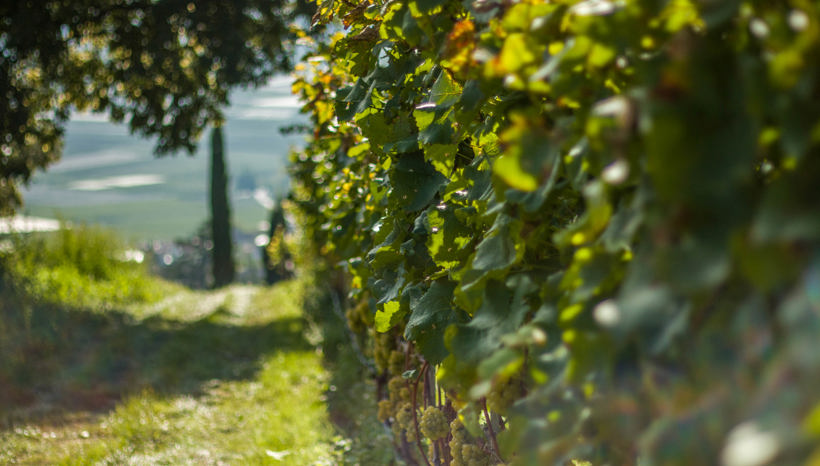 Muzeum wina i delektowanie się winem
Kaltern leży na Południowotyrolskim Szlaku Wina, a wczasowicze mogą tu na różne sposoby zbliżyć się do południowotyrolskiej kultury winiarskiej. Muzeum wina w Kaltern oferuje interesujący wgląd w tradycję uprawy winorośli w Południowym Tyrolu. Wino z Kaltern zostało po raz pierwszy wspomniane w dokumencie już w 1220 roku. Odwiedzający mogą tam podziwiać między innymi imponujące prasy do wina i warsztat produkcji beczek.
Zalecane jest również zwiedzanie winiarni z przewodnikiem, a następnie degustacja. Goście wakacyjni mogą też po prostu delektować się kieliszkiem dobrego wina z Południowego Tyrolu - przy śródziemnomorsko-alpejskim menu dla smakoszy z dopasowanym akompaniamentem wina, w Törggelen lub na imprezie winiarskiej w Kaltern.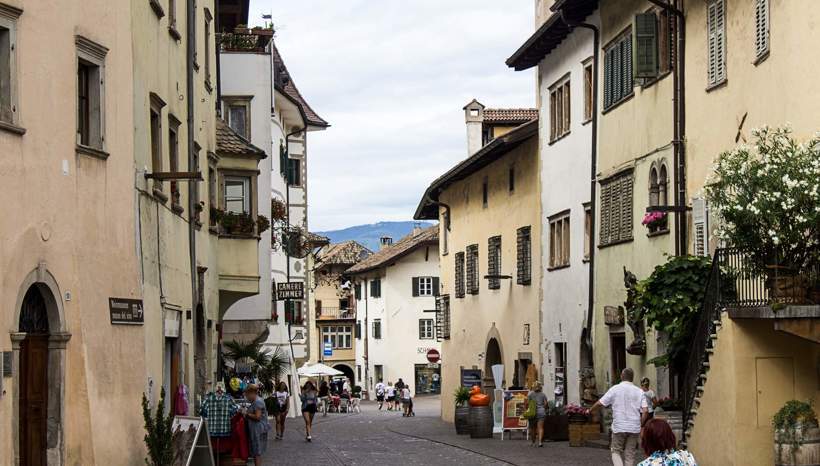 Historia i architektura
Ludzie osiedlali się tutaj już w epoce brązu - wskazują na to znaleziska archeologiczne na wzgórzach zamków Leuchtburg i Laimburg. W latach 1550-1600 Kaltern przeżywał architektoniczny rozkwit: nawet dziś krajobraz miasta charakteryzują wspaniałe budynki w stylu Überetsch, który harmonijnie łączy elementy późnego gotyku i renesansu. Krenelażowe ściany, wykusze, otwarte klatki schodowe, dwuskrzydłowe okna ze smukłymi centralnymi kolumnami, loggie i kolumnowe arkady, a także zamknięte wewnętrzne dziedzińce charakteryzują ten styl.
Kiedy słońce nie świeci, spacer po Bolzano zapewnia różnorodność i dobry humor. W stolicy Południowego Tyrolu osoby zainteresowane kulturą znajdą coś dla siebie podczas wycieczki z przewodnikiem po mieście lub wizyty w muzeum, a fani zakupów będą pod wrażeniem różnorodności tradycyjnych sklepów i nowoczesnych butików w słynnych pasażach.
Selected accommodations in Kaltern an der Weinstraße