Via Ferrata Stuller Waterfall
Imponująca via ferrata przy wodospadzie Stuller w Val Passiria przekonuje wymagającymi przejściami, a także wymarzonym krajobrazem w okolicy.
Trudna wariacja w środkowej części, strome podejście i położenie bezpośrednio przy grzmiącym wodospadzie: Nowa via ferrata "Stuller Wasserfall" to obowiązkowa pozycja dla ambitnych i odważnych fanów via ferrat. Liny asekuracyjne prowadzą wzdłuż dwóch kaskad wodospadu Stuller w Moso in Passiria, jednego z najwyższych wodospadów we Włoszech. Sprawność fizyczna, wytrzymałość, siła ramion i technika stóp są absolutnie niezbędne do opanowania trasy na poziomie trudności D (wariant E). Trasa via ferrata łączy w sobie łatwy spacer i przejścia via ferrata z pionowymi i częściowo przewieszonymi odcinkami.
Opis trasy:
Od kościoła w Moso in Passiria należy iść w kierunku dzielnicy Aue, aż do drogi krajowej. Tam wzdłuż galerii, przez schody i żelazną rurę do ścieżki dostępu (ok. 30 min. od Moos). Po dotarciu do wejścia trasa prowadzi najpierw wygodnie w górę przez szczelinę, przez pasmo poprzeczne i teren spacerowy (trudność maks. B/C).
Dalszy odcinek również początkowo nie jest trudny, po czym następuje krótkie przewieszenie (D). Kolejna część via ferraty to prawdziwe wyzwanie: Wariant 1 prowadzi w lewo o umiarkowanym stopniu trudności aż do szlaku długodystansowego E5. Wariant 2 z kolei prowadzi stromo w prawo do przewieszenia i krótkiego trawersu (D/E) do kluczowego odcinka (E). W obu wariantach przecina się szlak długodystansowy E5. Ostatnia część via ferraty prowadzi dalej na łąkę (B/C) i do dzielnicy Ega w wiosce Stuls.
Po dotarciu do centrum Stuls wraca się do Moos szlakiem nr 10A.
Szczegóły wycieczki:
Długość: 3:00 h / 4:30 h
Różnicawysokości: 300 m / 520 m
Stopieńtrudności: bardzo trudna
Images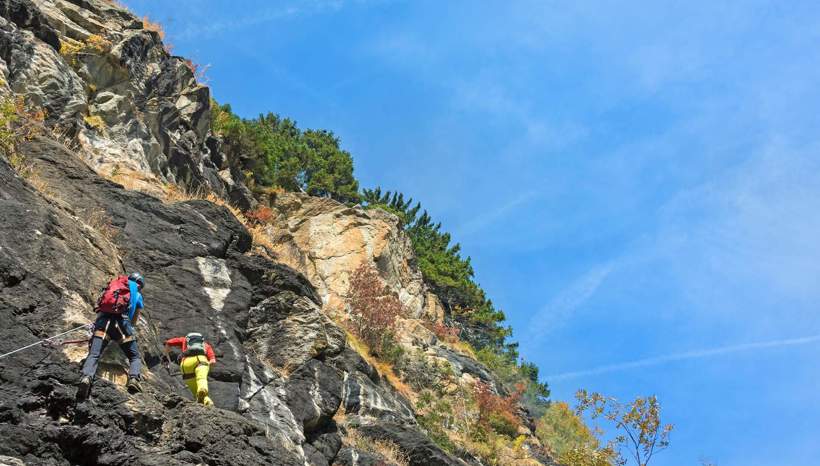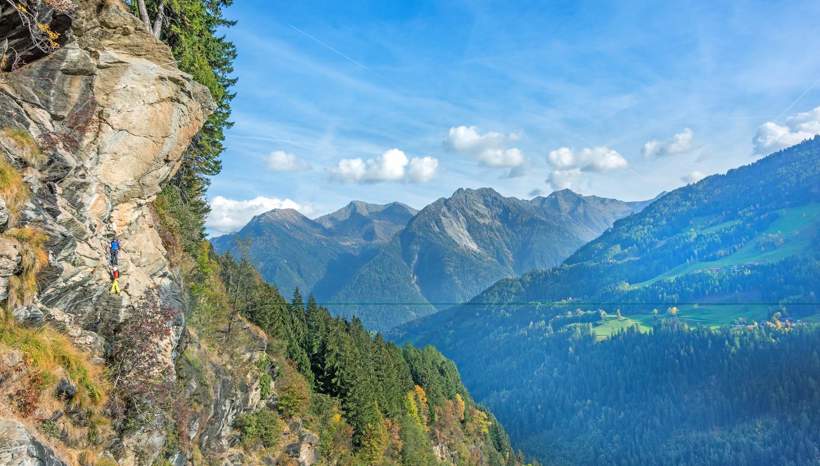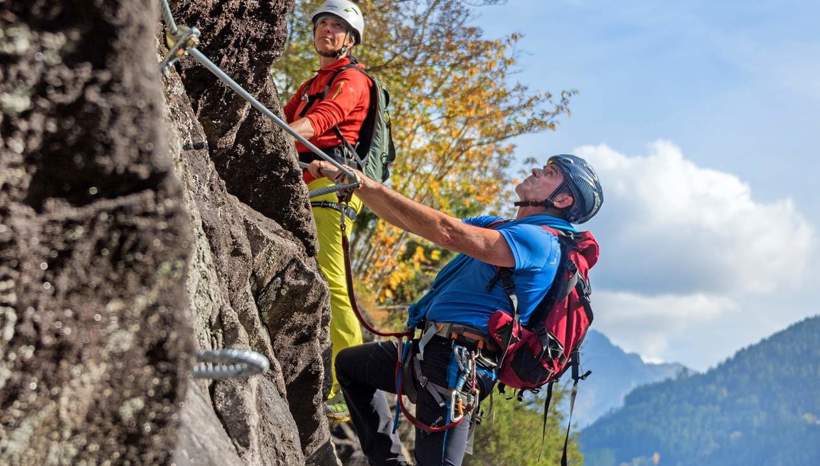 Selected accommodations in Moos in Passeier