Slackline Park - Taniec na linie
Masz ochotę dosłownie wzbić się w powietrze? W takim razie nie możesz przegapić pierwszego w Południowym Tyrolu parku Slackline w Selva Gardena.
Slacklining, połączenie jogi i tańca na linie, to nowy, innowacyjny sport. Zwłaszcza w miesiącach letnich odważni akrobaci wywołują zdumienie wśród wielu spacerowiczów w parkach. Każdy, kto myśli, że jest to nowy cyrk, jest w błędzie.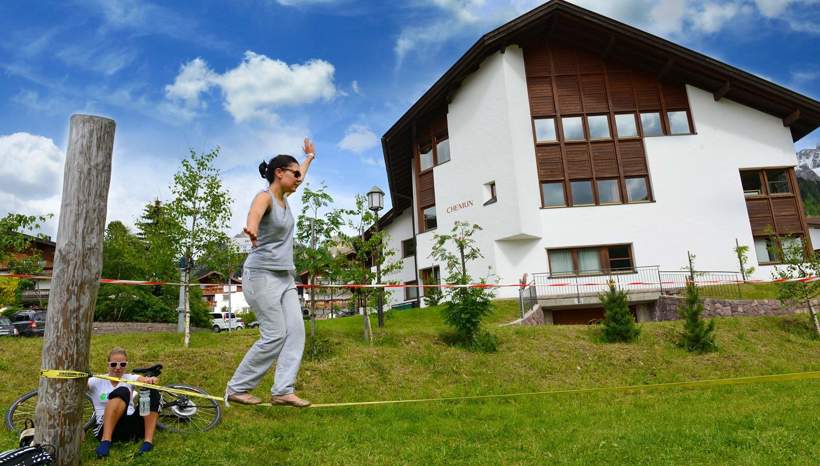 Czym jest slacklining?
Nowoczesny taniec na linie nazywany jest "slacklining" lub "slacking". Ten nowy, modny sport, który wzbudza coraz większy entuzjazm także w naszym kraju, w latach 80. ubiegłego wieku zawitał do Europy. Dużą różnicą w stosunku do klasycznego chodzenia po linie jest zdecydowanie tzw. gibbon, czyli lina. Podczas gdy linoskoczkowie balansują na stabilnej i napiętej linie, slacklinerzy próbują swoich sił na dynamicznie kołyszącej się linie.
Lina jest luźno rozciągnięta pomiędzy dwoma stałymi punktami. Termin slackline można wyjaśnić w wolnym tłumaczeniu z języka niemieckiego "luźniejsza lina": lina ustępuje pod ciężarem akrobaty i zaczyna się kołysać. Im dłuższa lina, tym więcej odpoczynku i równowagi potrzebuje slackliner. Sportowiec stara się zrównoważyć wibracje liny swoim ciałem i chodzi po linie z dużą koncentracją, równowagą i koordynacją. Slacklining wykorzystuje całą muskulaturę i dlatego jest doskonałym treningiem całego ciała, który trenuje stabilizację ciała i równowagę.
Longlines, czyli liny o długości ponad 100 metrów, obiecują ekstremalne wyzwania, szczególnie dla zaawansowanych slacklinerów. Bardziej odważni sportowcy zapuszczają się nawet na duże wysokości i udowadniają swoją zdolność koncentracji i wysokość na tak zwanych highlines. Liny rozpięte są pomiędzy wysokimi drzewami, a nawet szczytami gór. Innym pełnym przygód sposobem jest balansowanie nad wodą. W slackliningu nie ma ograniczeń, a akrobatyczne sztuczki, takie jak obroty o 180° lub 360°, salta w przód i w tył, szpagaty, stania na rękach, siady skrzyżne, "ślizgi" lub "chwyty" (kucanie i chwytanie liny) oferują śmiałe i ekstremalne wyzwania.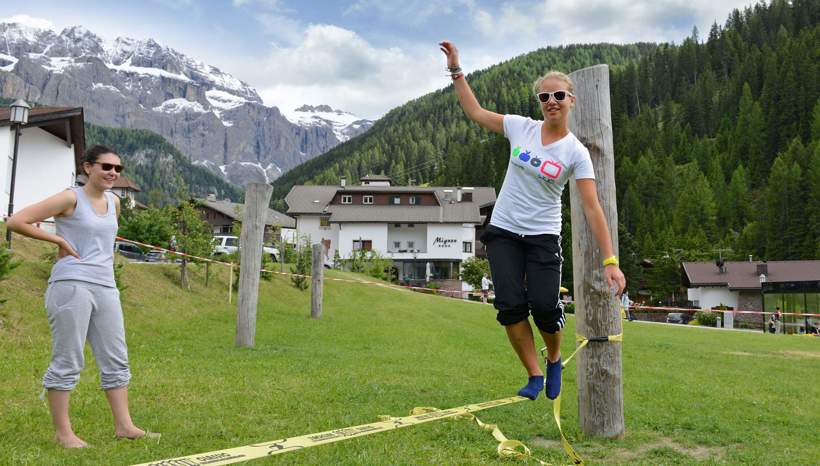 Slackline Park w Val Gardena
Entuzjazm dla nowoczesnego tańca na linie został w końcu rozpalony w Południowym Tyrolu, a pierwszy Slackline Park otworzył swoje podwoje w Selva di Valgardena. Oferuje on swoim odważnym gościom łącznie 13 różnych sposobów mocowania slackline'ów, od linii dla początkujących po specjalne linie, takie jak "Rodeo Line" dla żądnych przygód ekspertów.
Wypróbuj triki na "luźnej linie" i odwiedź Slackline Park w Selva Gardena. Zasmakuj świata "luzu" na cotygodniowych kursach dla początkujących. Zabierz ze sobą wytrzymałość i odrobinę odwagi i dosłownie wznieś się w powietrze. Slackline Park w Val Gardena to obietnica dobrej zabawy! Let's slack!
Selected accommodations in Wolkenstein in Gröden