Porada degustacyjna: Törggelen w Południowym Tyrolu
Prawdziwe Törggelen to coś więcej niż obfity posiłek w gospodzie! Klasyczne Törggelen w Południowym Tyrolu jesienią łączy spokojną wędrówkę z wizytą u winiarza lub w typowej gospodzie.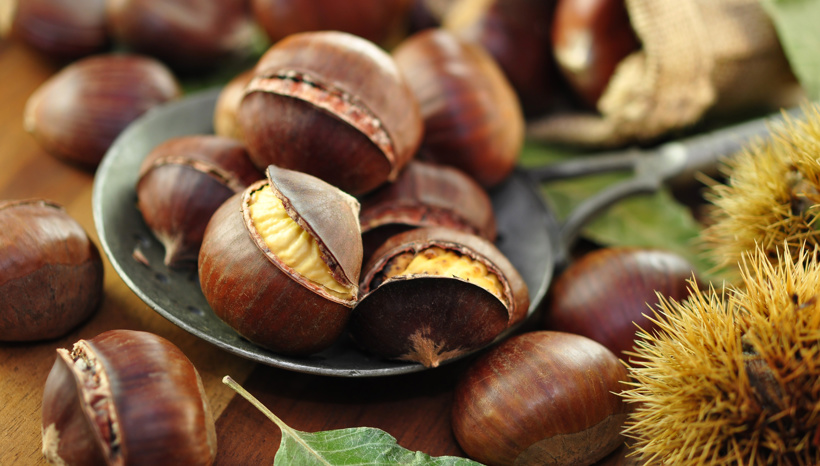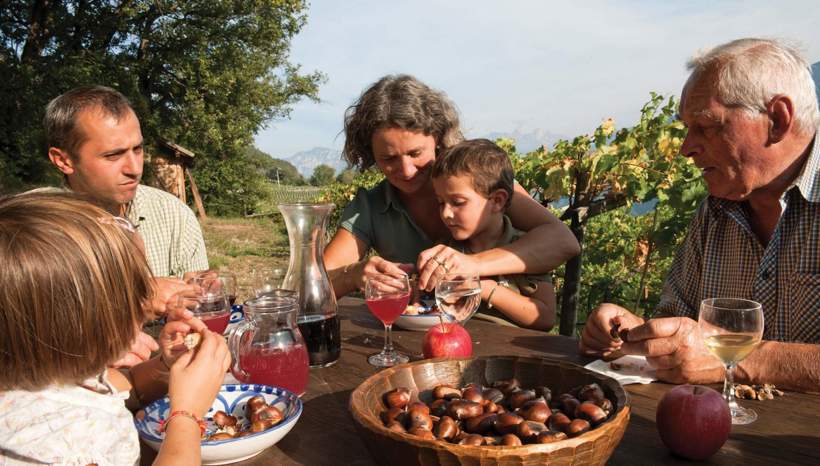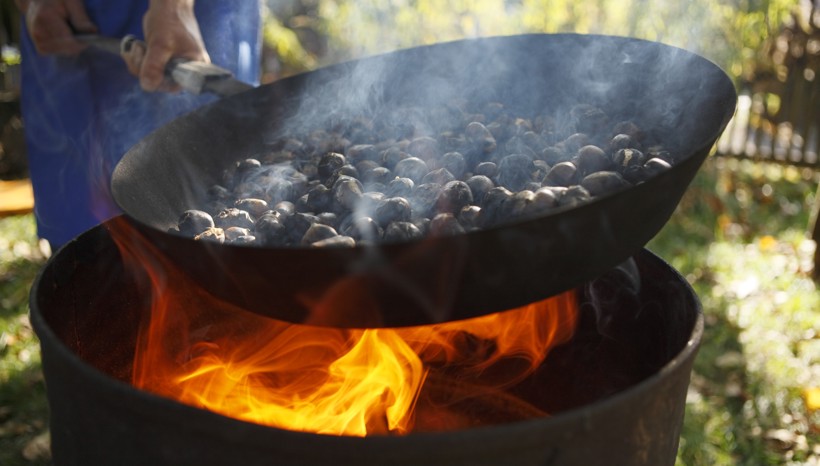 Jesień to czas Törggele w Południowym Tyrolu, a oczekiwanie jest zwykle wielkie na długo przedtem. W końcu, wraz z sezonem szparagowym na wiosnę, jesień jest sezonem epikurejskim par excellence. Gdy tylko kasztany wydostaną się ze swoich kłujących skorupek, rolnicy rozpalają piece opalane drewnem i pieką "Keschtn" na otwartym ogniu, aż skorupa stanie się czarna od sadzy, a wnętrze rozkosznie miękkie.
Pochodzenie Törggelen
Zwyczaj Törggelen stał się powszechny. Jego początki są jednak znacznie mniej znane: prawdopodobnie winiarze przenieśli degustacje wina, które wcześniej odbywały się w zatęchłej piwnicy, do przytulnego salonu. Przy udziale sąsiadów i krewnych degustacja z godziny na godzinę stawała się przytulnym spotkaniem, podczas którego serwowano wszystko, co piwnica i spiżarnia miały do zaoferowania. Nawiasem mówiąc, nazwa tej tradycji pochodzi od"Torggel", prasy do winogron w tłoczni wina.
Zapach pieczonych kasztanów sprawia, że nie tylko smakoszom cieknie ślinka, zwłaszcza gdy wie się, że wraz z kasztanami podawane jest również nowe wino roku - a także świeże jabłka i winogrona, obfite zupy i wszelkiego rodzaju inne regionalne przysmaki.
Wskazówki dotyczące Törggele
Najlepsze tawerny Törggele w Valle Isarco, na południu Południowego Tyrolu i w okolicach Merano są domem dla oryginalnych Törggelen: prawdziwych, przytulnych i prawdziwie południowotyrolskich. Właśnie dlatego zebraliśmy dla Ciebie jedne z najpiękniejszych wędrówek po Törggelen z objazdami do prawdziwych gospodarzy Törggelen. Jeśli chcesz poznać Törggelen w naprawdę tradycyjny sposób, zostaw samochód w domu i wybierz się na spokojną wędrówkę do Buschenschank.
Przez dolinę Höllental do gospodarstwa Gummererhof
Punkt startowy: centrum Tramin
Czas trwania wędrówki: ok. 1 godzina
Punktem wyjścia tej wędrówki po Törggele jest Tramin, znana na całym świecie wioska winiarska na Nizinie Południowego Tyrolu. Choć droga przez dolinę Höllental może wydawać się upiorna, w rzeczywistości okazuje się bardzo malownicza: wybierz ścieżkę Kirchsteig z Tramin do kościoła San Giacomo w Kastellaz, a następnie wzdłuż strumienia Höllenbach i obok zamku Rechenthal pod górę przez winnice. Przy drodze należy podążać ścieżką w prawo do Gummererhof, typowego gospodarstwa winiarskiego z dwoma pięknymi, starymi pokojami gościnnymi i częściowo zadaszonym tarasem.
Do Huber Inn w Pardell
Punkt startowy: centrum Chiusa
Czas trwania wędrówki: około 1 godziny
W tym przypadku naprawdę trzeba zasłużyć na obfity posiłek Törggele. Nieco żmudny spacer z pięknego historycznego centrum miasta Chiusa jest jednak opłacalny z dwóch powodów: ze względu na majestatycznie położony klasztor Säben, który mijamy, oraz ze względu na gospodę Huber w Pardell, która jest jedną z najpopularniejszych restauracji Törggele w Valle Isarco. Trasa rozpoczyna się w centrum Chiusa, skąd prowadzi pod górę Säben, obok prywatnego zamku Bronzolo i dalej do klasztoru. Następnie podążaj szlakiem turystycznym nr 1 w lewo i kontynuuj wędrówkę do wioski Pardell.
Przez region zamkowy Eppan do gospody Wieser
Punkt startowy: centrum S. Paolo
Czas trwania wędrówki: ok. 3 godziny
Nieco dłuższa wędrówka prowadzi z St. Paolo w gminie Eppan do samotnej gospody Wieser w pobliżu Perdonig. Trasa jest jednak tego warta, ponieważ prowadzi przez cudownie romantyczny krajobraz, pełen winnic i słynnych zamków. Szlak pieszy nr 9 rozpoczyna się w S. Paolo i prowadzi w kierunku Missian, obok słynnego zamku Korb, w którym mieści się tradycyjny luksusowy hotel, oraz obok ruin zamku Boymont. Szlak prowadzi dalej do zamku Hocheppan i wieży kredowej, a następnie przez dolinę Hocheppan, w górę przez las do Perdonig i do Gasthof Wieser, pięknie położonego dawnego gospodarstwa z dużym ogrodem dla gości i rustykalną izbą.
Selected accommodations in South Tyrol