Wakacje w San Giacomo
Im dalej w głąb doliny Aurina, tym bardziej dziewiczy i nietknięty staje się krajobraz. Wioska San Giacomo znajduje się zaledwie kilka kilometrów od początku doliny i ma w zanadrzu wiele niespodzianek, które z pewnością umilą spędzone tu wakacje.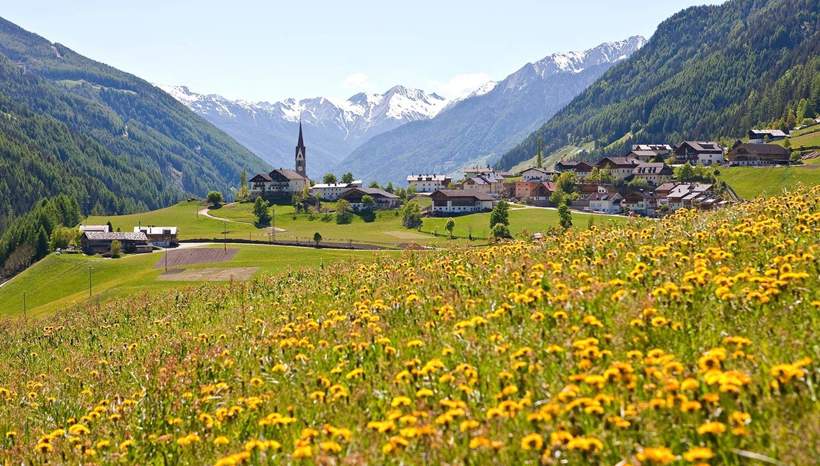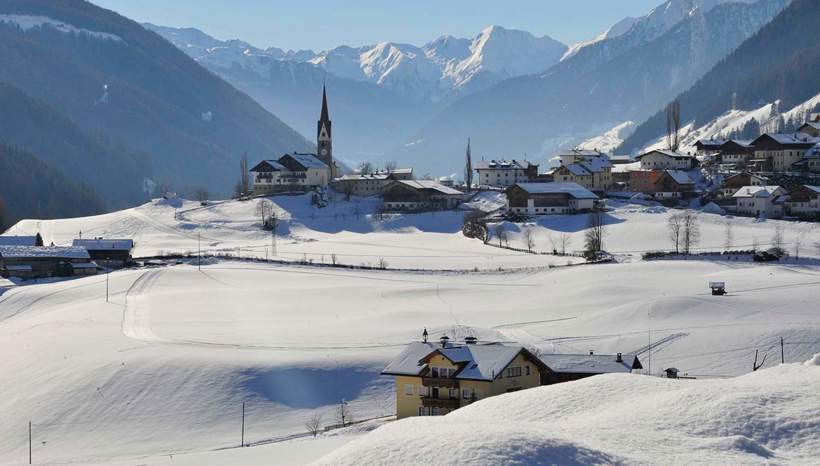 San Giacomo jest częścią gminy Valle Aurina. Wioska położona jest w wyjątkowym górskim świecie na wysokości prawie 1200 metrów nad poziomem morza. Znajdziesz tu nie tylko niezliczone szczyty wznoszące się ponad 3000 metrów w niebo, ale także wyjątkowo dużą liczbę rustykalnych alpejskich pastwisk i schronisk górskich do odkrycia podczas spokojnych lub wymagających wędrówek.
Nie oznacza to jednak, że podczas wakacji w San Giacomo nie zobaczysz nic poza górami, łąkami i lasami. Wręcz przeciwnie, miejscowość szczyci się również wieloma dobrami artystycznymi i kulturalnymi, które są warte odwiedzenia. Jednym z nich jest gotycki kościół parafialny, który znajduje się w centrum miejscowości i jest poświęcony świętemu Jakubowi, od którego pochodzi jego nazwa. Kilka lat temu w pobliżu wybudowano również fontannę z posągiem patrona.
Spacerując wzdłuż Leonhardiweg, która biegnie przez okolice San Giacomo, można zatrzymać się w ogrodzie rzeźb artysty Oberhollenzera. To oczywiste, że Valle Aurina ma tak wiele do zaoferowania aktywnym urlopowiczom - od zapalonych wędrowców i rowerzystów po entuzjastów sportów zimowych. Przyjazny rodzinom teren turystyczny i narciarski Klausberg znajduje się zaledwie kilka kilometrów dalej i można do niego szybko i wygodnie dojechać autobusem.
Sztuka rzeźbienia w drewnie z San Giacomo
Jeśli szukasz mistrzów rzeźbienia w drewnie w Południowym Tyrolu, prawdopodobnie najpierw natkniesz się na artystów z Val Gardena. Mniej znani, ale nie mniej wykwalifikowani, są snycerze z San Giacomo w Valle Aurina, którzy, podobnie jak ich koledzy po fachu w Dolomitach, od niepamiętnych czasów przekazują swoje rzemiosło z pokolenia na pokolenie.
Pasterze, którzy spędzali całe lato ze swoim bydłem na alpejskich pastwiskach, prawdopodobnie zaczęli rzeźbić wiele lat temu. Kiedy wracali do doliny na początku jesieni, sprzedawali małe figurki i figurki lub dekorowali nimi domy. Z biegiem czasu ta rozrywka przekształciła się w prawdziwy zawód, który był również praktykowany w wiosce.
Do najpopularniejszych motywów snycerzy z Valle Aurina należą dzieła religijne, takie jak szopki, krucyfiksy i figury świętych, a także przedmioty codziennego użytku oraz maski czarownic i diabłów na tradycyjne procesje karnawałowe i Krampus.
Localities in Tauferer Ahrntal
Selected accommodations in St. Jakob