Wakacje w miejscowości Postal
Postal leży na wysokości zaledwie 270 m n.p.m. nad brzegiem rzeki Etsch, na południe od Merano. Pierwsze wzmianki o miejscowości pojawiły się w dokumentach już w XIII wieku.
Postal leży pomiędzy rezerwatem przyrody i łąkami jabłoni i jest oddzielony od pobliskiej miejscowości Lana rzeką Adygą. Korzystne położenie pod względem transportu sprawia, że jest to idealna baza wypad owa na wycieczki. Do stolicy prowincji Bolzano można dojechać w 15 minut, a uzdrowisko Merano oddalone jest o zaledwie 10 minut jazdy samochodem.
O długiej historii Postalu świadczą nie tylko pozostałości zamku o tej samej nazwie, od którego pochodzi nazwa miejscowości. Zamek został niegdyś zbudowany przez hrabiego Volkmara von Postala. Dziś można zobaczyć tylko pozostałości muru obwodowego.
Warto również zobaczyć biotop Postal Auen, który pozostał po osuszeniu dna doliny, kościół Świętego Krzyża i muzeum zwierząt, w którym można zobaczyć rzadkie zwierzęta i ponad 300 rodzimych gatunków ptaków.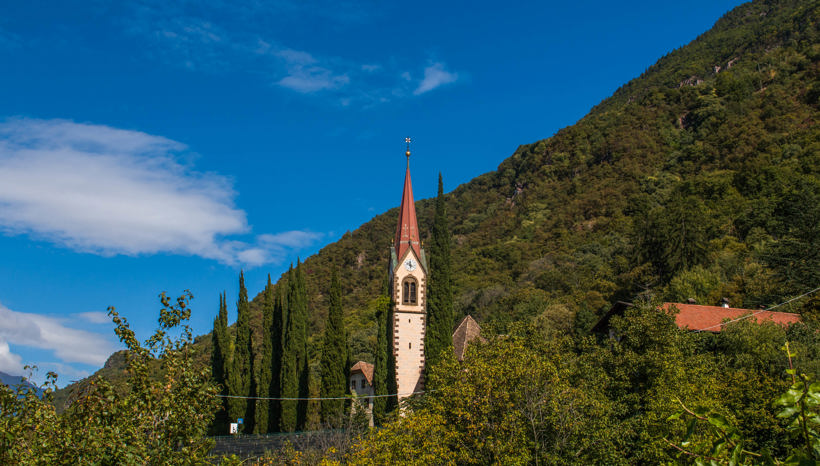 Raj dla rowerzystów i turystów pieszych
Łagodny, śródziemnomorski klimat zapewnia długi sezon turystyki pieszej i rowerowej. Z Postalu można wyruszyć na wspaniałe wędrówki, wycieczki rowerowe i spacery - przez dolinę Etschtal do doliny Val Passiria lub doliny Venosta.
Kolejka linowa Burgstall-Vöran zabierze Cię w zaledwie 5 minut na górę Tschögglberg z obszarem wędrówkowym Merano 2000 i Salten. Na przewiewnych wysokościach, między rzadkimi lasami modrzewiowymi, wędrowcy i rowerzyści górscy czują się szczególnie dobrze w gorące letnie miesiące.
Przyjazna rodzinom ścieżka rowerowa Etschtal zaprasza na wycieczki rowerowe. Można pojechać na rowerze aż do Bolzano, Merano lub na południe kraju, a następnie wrócić pociągiem.
Możesz zrobić coś dla swojej kondycji na około 4-kilometrowym szlaku trymerskim, który wije się przez las wokół Postala.
Spędź kilka niezapomnianych dni w Postalu - to najlepszy adres na wakacje na łonie natury z całą rodziną!