Najlepsze tawerny Południowego Tyrolu
Wakacje w Południowym Tyrolu oznaczają przyjemność! Jest to już dobrze znane. Zwłaszcza podczas wakacji na farmie można uzyskać wgląd w kulinarną różnorodność kraju i spojrzeć przez ramię rolnikom, którzy produkują własną żywność.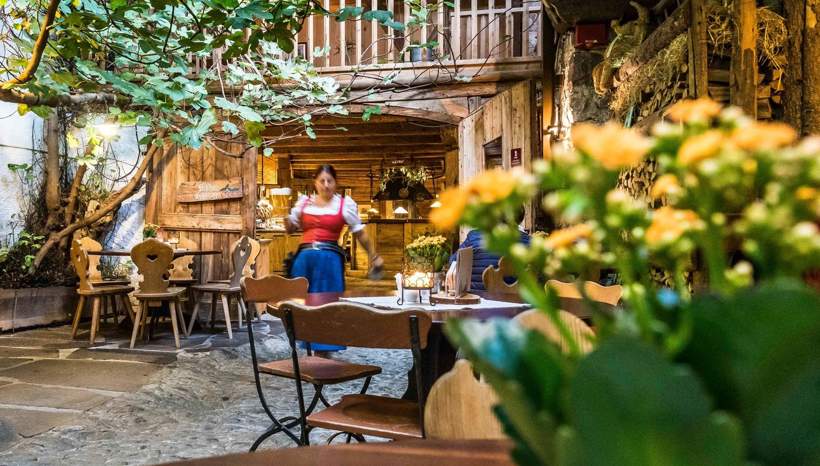 Dobrze zbilansowane śniadanie to najlepszy sposób na rozpoczęcie dnia. Wiele gospodarstw oferuje bogaty bufet ze wszystkim, czego dusza zapragnie: słodkimi pastami z owoców z własnego ogrodu, świeżymi jajkami, serem i masłem na domowym chlebie oraz szklanką zimnego mleka. Czy dzień może zacząć się lepiej?
Tak wzmocnieni z przyjemnością wybierzemy się na pieszą lub rowerową wycieczkę po dziewiczej przyrodzie Południowego Tyrolu, gdzie wiejskie gospody zapraszają na przerwę. Tam rolnicy i właściciele gospód serwują tradycyjne i wyrafinowane dania, takie jak Schlutzer, Tirtlan lub domowe kiełbaski z kiszoną kapustą. Pyszne desery, takie jak nadziewane pączki z dżemem morelowym, schmarrn i strudel są również dostępne w wielu lokalach Buschen i Hofschank.
Po dniu pełnym wrażeń i obfitym "Marende " z boczkiem i serem, kulinarną podróż po wiejskich przysmakach Południowego Tyrolu można zakończyć domowymi destylatami w przytulnej izbie.
Funkcja specjalna: pieczenie chleba
Czy chciałbyś choć raz samodzielnie "zarobić" na chleb powszedni? W takim razie farma jest właściwym miejscem dla Ciebie. Pieczenie chleba nie jest tu zwykłym rzemiosłem, ale tradycyjną kulturą. W przeszłości chleb był pieczony tylko co kilka miesięcy, a następnie suszony, aby mógł być przechowywany dłużej. Jednak nic nie przebije zapachu świeżo upieczonego chleba, który następnie przenika cały dom. W tradycyjnych gospodarstwach Południowego Tyrolu dowiesz się, co nadaje słynnym Schüttelbrot, "Vinschgerl" i "Pusterer Breatl" ich niezrównany smak.
Selected accommodations in South Tyrol