Południowym Tyrolu zupa jęczmienna
W chłodne jesienne wieczory, podczas Törggelen lub po wspaniałym dniu na stoku narciarskim, nie ma nic lepszego niż pyszna, gorąca zupa jęczmienna.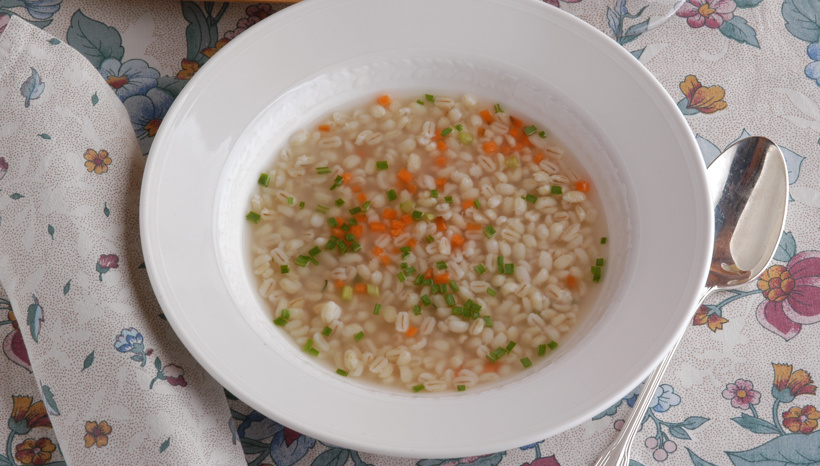 Każdy, kto spędza wakacje w Południowym Tyrolu, powinien choć raz spróbować tej tradycyjnej zupy! Zupa jęczmienna lub "Gerstsuppe" to oryginalny chłopski posiłek o obfitym smaku. Składniki tego typowego specjału Południowego Tyrolu są proste, ponieważ w przeszłości górscy rolnicy często żyli w skromnych warunkach, ale mimo to powstaje niezwykle pyszne danie.
Południowotyrolska zupa jęczmienna serwowana jest zarówno w rustykalnych alpejskich chatach i przytulnych wiejskich gospodach, jak i w eleganckich hotelach. W typowych restauracjach Törggele zupa jęczmienna jest nieodzowną częścią menu. W niektórych regionach wypoczynkowych, takich jak Val Pusteria, zupa podawana jest z tirtl (pieczony pieróg wypełniony mieszanką twarogu, szpinaku lub kiszonej kapusty).
Składniki takie jak warzywa, zboża i mięso sprawiają, że zupa jęczmienna jest bardzo treściwym i sycącym posiłkiem. Nie tylko ze względu na to i jej rozgrzewające działanie, zupa ta jest nadal bardzo popularna wśród rolników i wędrowców.
Przepis
Składniki dla 4 osób:
1 cebula, pokrojona w kostkę
po 30 g marchwi, selera naciowego i ziemniaków, pokrojonych w kostkę
100 g wędzonego mięsa, najlepiej wieprzowiny
100 g jęczmienia (perłowego), namoczonego w wodzie 2 godziny wcześniej
2 l zupy mięsnej lub bulionu warzywnego
Masło do smażenia
1 liść laurowy
Przygotowanie:
Podsmaż cebulę na maśle na złoty kolor, dodaj warzywa i jęczmień i smaż przez chwilę. Następnie wlej zupę i dodaj liść laurowy. Gotować przez godzinę.
Dodaj pokrojone w kostkę wędzone mięso i ziemniaki i gotuj przez kolejne 20 minut. Dopraw solą i pieprzem i podawaj ze szczypiorkiem.
Selected accommodations in South Tyrol